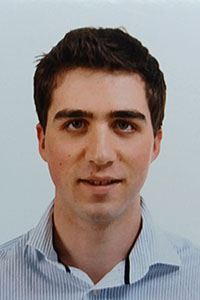 Pablo Largo-Barrientos
VIB-KU Leuven Center for Brain and Disease Research, Belgium
Pablo Largo-Barrientos did bis Bachelor in Salamanca, Spain and his Masters in Amsterdam, The Netherlands. He is currently working in the lab of Prof. Dr. Patrik Verstreken at KU Leuven (Belgium), investigating the molecular mechanisms of synaptic Tau in physiology and pathology.
Research interests:
Alzheimer's disease
Tau
Synaptic transmission
Selected publications:
Largo-Barrientos P, Apóstolo N, Creemers E, Callaerts-Vegh Z, Swerts J, Davies C, McInnes J, Wierda K, De Strooper B, Spires-Jones T, de Wit J, Uytterhoeven V, Verstreken P. Lowering Synaptogyrin-3 expression rescues Tau-induced memory defects and synaptic loss in the presence of microglial activation. Neuron. 2021 Mar 3;109(5):767-777.e5. doi: 10.1016/j.neuron.2020.12.016.
Gomes LA, Hipp SA, Rijal Upadhaya A, Balakrishnan K, Ospitalieri S, Koper MJ, Largo-Barrientos P, Uytterhoeven V, Reichwald J, Rabe S, Vandenberghe R, von Arnim CAF, Tousseyn T, Feederle R, Giudici C, Willem M, Staufenbiel M, Thal DR. Aβ-induced acceleration of Alzheimer-related τ-pathology spreading and its association with prion protein. Acta Neuropathol. 2019 Dec;138(6):913-941. doi: 10.1007/s00401-019-02053-5.
Wever I, Largo-Barrientos P, Hoekstra EJ, Smidt MP. Lmx1b Influences Correct Post-mitotic Coding of Mesodiencephalic Dopaminergic Neurons. Front Mol Neurosci. 2019 Mar 14;12:62. doi: 10.3389/fnmol.2019.00062.