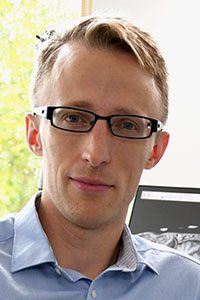 Prof. Dr. James H. Cole
Centre for Medical Image Computing, University College London, UK
Prof James H. Cole did his PhD at the Social, Genetic & Developmental Psychiatry (SGDP) Centre, King's College London, and has been using neuroimaging to study various brain diseases ever since then. Since 2017 he has been working in the Department of Neuroimaging at King's College London and is now Associate Professor of Neuroimaging Analysis at UCL, where he studies the relationship between ageing and brain disease, particularly dementia. His research is firmly focused on providing a relevant clinical benefit, not only in the diagnosis but also in the treatment of people suffering from neurological or psychiatric diseases.
Research interests:
Ageing, neurodegeneration and dementia
Improving diagnosis, predicting disease progression and quantifying treatment response.
Using machine learning techniques to build a predictive model of brain age, based on MRI and other biological data.
Selected publications:
Cole JH, Marioni RE, Harris SE, Deary IJ. Brain age and other bodily 'ages': implications for neuropsychiatry. Mol Psychiatry. 2019 Feb;24(2):266-281. doi: 10.1038/s41380-018-0098-1. Epub 2018 Jun 11. PMID: 29892055; PMCID: PMC6344374.
Cole JH, Franke K. Predicting Age Using Neuroimaging: Innovative Brain Ageing Biomarkers. Trends Neurosci. 2017 Dec;40(12):681-690. doi: 10.1016/j.tins.2017.10.001. Epub 2017 Oct 23. PMID: 29074032.
Cole, J., Ritchie, S., Bastin, M. et al. Brain age predicts mortality. Mol Psychiatry 23, 1385–1392 (2018). https://doi.org/10.1038/mp.2017.62
The ISYNC conference is funded by the Deutsche Forschungsgemeinschaft DFG.